MINIMOB NEWS
Latest news from MiniMob Racing-
Jan 18/19 - PMT Tire 90/85R10 slicks back in stock with a sick new R compound Ultrasoft for our indoor MiniGP and minimotard friends.

Oct 30/18 - Mobster Vortex wheels back in stock! Tubeless 6 spoke mags for pitbikes, and can be custom sized for CRF150R, YZ85, KX85 etc. The premier wheel set for minimotard and minigp. They come in black powdercoat, other custom colors available for an extra charge. Find them here: MOBSTER VORTEX WHEEL SET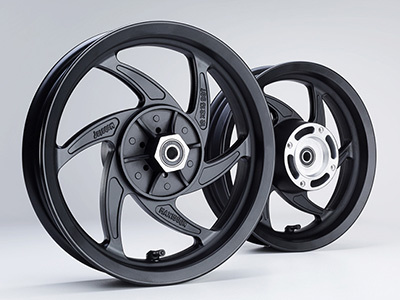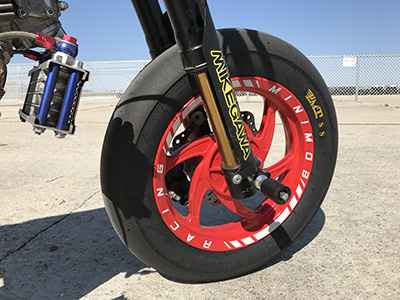 Oct 12/18 - Brand new PMT Tyre model is now in inventory and listed - the GP-0 is a 10 inch competition only slick that we've brought into North America in soft compound. 100/85 fronts and 120/80 rears. These are the oem tires supplied on the awesome little Ohvale GP-0 minigp bikes out of Italy. Find them here: PMT Tire 10 Inch Category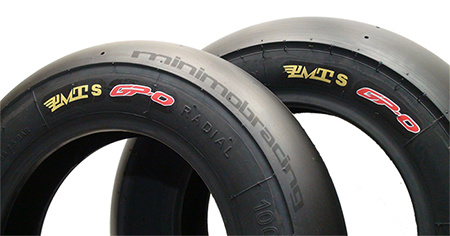 Oct 12/18 - Fresh PMT slicks arrived this week, all compounds now back in stock!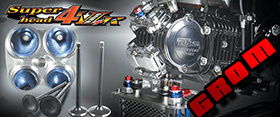 We told you last fall to expect it by Spring and its here! Takegawa 4 Valve Superhead for the Honda Grom available in April! 2 valve heads can now be considered obsolete. Taking from the unrivaled success and power delivery of the CRF 4V Superhead, Takegawa has adapted all this performance to the Honda Grom platform and bundled with the all powerful 181cc 4 Valve Superhead bore kits. Dual 25mm intake valves and dual 21.5mm exhaust valves provide higher flow rate and more efficient delivery than any 2 valve head could ever produce in this engine class. Forged aluminum roller rockers and included Takegawa auto decompression camshaft puts this over the top! Also available with adjustable Takegawa FI Con in the 181cc 4 Valve Superhead Combo kit. Pre-order pricing is in effect until March 24. Click the pic to take you to the full product listings
Jan. 27/16 - We're back from Italy and shipping all your orders today! Thanks for your patience while we hopped across the pond to scout out new manufacturers and some truly amazing product lines that we will be adding to our lineup for 2016.

Jan. 10/16 We will be closed for a brief holiday Jan. 15 through Jan. 26 to gear up for the new season beginning in February 2016. Web orders are still available and all product will ship Jan. 27. We apologize for any inconvenience. Best regards from the Minimob Team!

Oct. 31/15: New even lower price for Kitaco Grom big bore kits! 164cc kits starting at $299.95, 181cc kits starting at $329.95.

New products from Kitaco Takegawa and PMT Tire, special offers, lower shipping fees all in effect for Fall 2016! All PMT Tire slicks in soft and medium compounds special offer - Free Shipping until the end of September 2016 to all North American addresses!
Oct 10/15 We are proud to announce that Minimob Racing has been awarded North American distributorship for PMT Tire.

Over 10000 fans on our Facebook page! Join in for the latest in product releases and updates from Minimob Racing. Click the link here:

Takegawa and Kitaco are hot on the MSX125 / Grom with performance parts coming out this summer. Brand new Grom category coming up soon!
Select Takegawa factory assembled race engines in 123cc 138cc 148cc and 158cc on sale for a limited time! Up to $1000 off MSRP, best price we've ever offered!
After a brief hiatus, the 125cc Scut +R Superhead kits for XR100R/CRF100F are back in production and back in stock! Easy install with no case boring.

Just released - Takegawa DOHC +D bore kits, DOHC auto decompression camshaft kits and decomp conversion kits. New decomp design camshafts borrowed from the CRF and KLX series offer easy effortless starts on high displacement engines. Find the conversion kits here:
Takegawa 158cc +R Superhead Complete Engines now available at Minimob Racing! Check the listing here:

All new 2012 Special Parts Takegawa catalog is now available in print and online. Tons of new products, many you have already seen first here at Minimob Racing, home of Takegawa North America.

All Takegawa Special Clutches for CRF50 Monkey, Gorilla, KLX110 KSR110 and much more are back in stock, along with SICK amounts of new items from the 2012 Takegawa catalog. As always, Minimob Racing stocks repair parts for all +R Superhead, DOHC, 4V Superhead, R-Stage, S-Stage heads and bore kits, special clutches and most everything else!
First time ever - Takegawa Factory +R Superhead Complete Race Engines for XR100R CRF100F Ape100 available in 124cc 130cc and 146cc displacements. Includes Takegawa Special Clutch and covers, Superstreet Outer Rotor Ignition and lots more! Look for these here early October 2011!